Discover our news presented at Vitrum 2021
Enterprise 6.9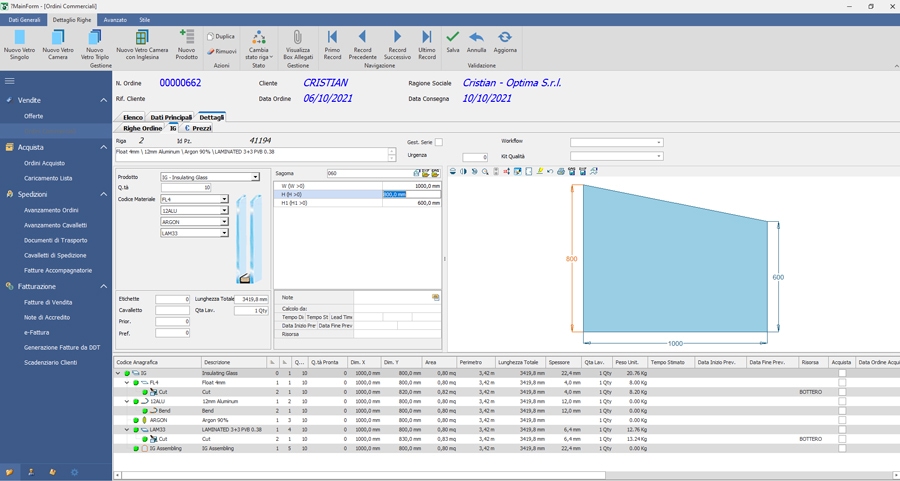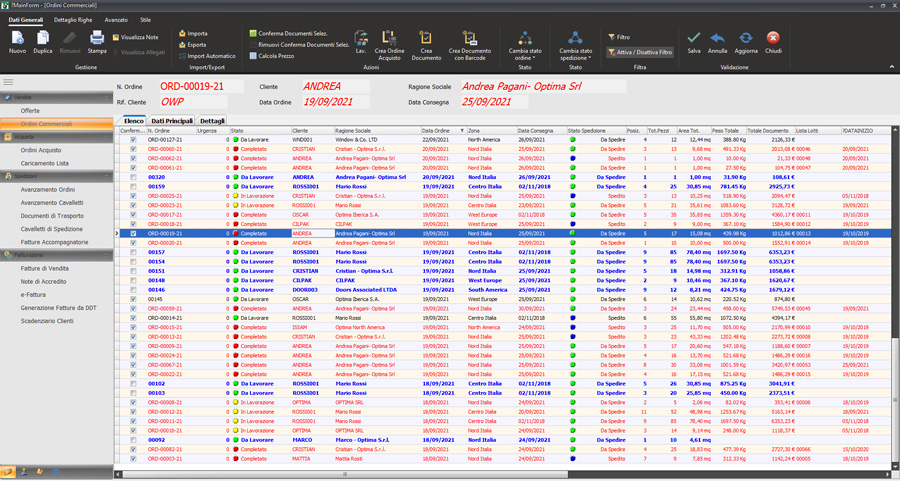 New graphic look for our ERP package with the introduction of the so-called "Ribbon" interface. The new version changes the placement of menus and functionalities both from a graphical point of view and from the perspective of grouping menus that are now organized by department instead of by functionality. The new interface, as well as being faster and more efficient, introduces the possibility of customizing colors and styles by drawing from a vast catalog of configurations
Web – Orders NEW!!!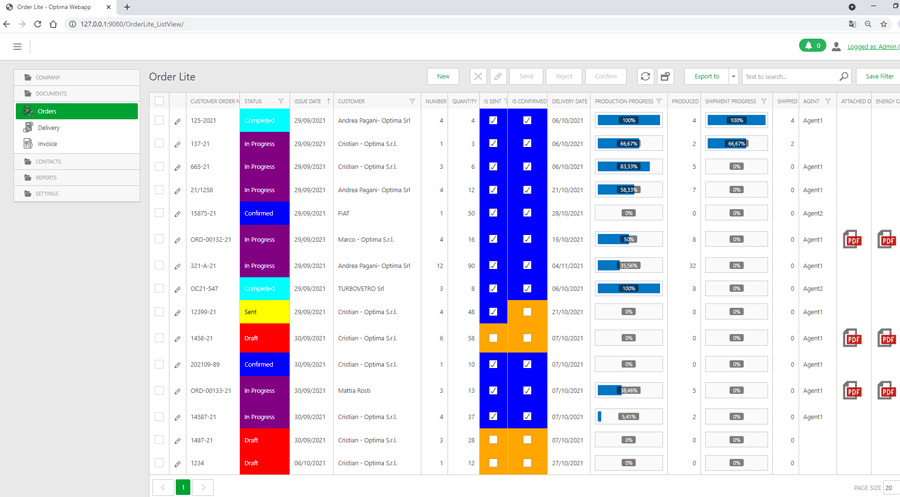 Web-Orders is a WEB application that is independent from the Enterprise ERP but still connected to its database in reading (for status reading) and writing (for order entry).
The orders inserted with Web-Orders are sent directly to the ERP Optima that processes them and calculates the price (not available in the WEB application) thus relieving the employees of the work of manual insertion.
Through Web-Orders each customer can view the progress of orders in production, the history of previous orders, bills, invoices and DOP with the possibility to download courtesy copies in PDF format directly from the portal and in a totally autonomous way.
Web – Dashboard 3.0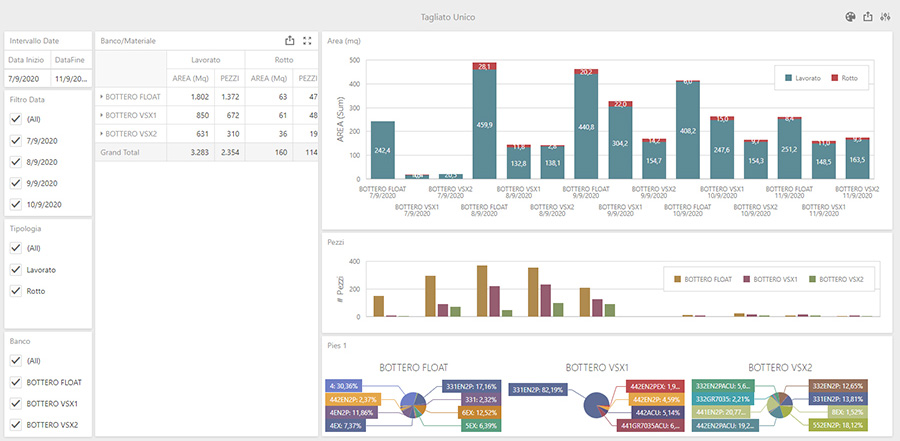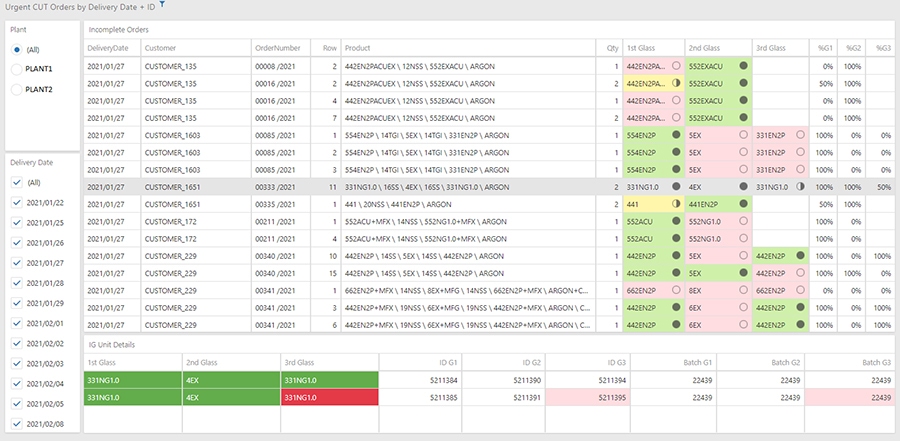 New graphics and enhanced calculation tools also for the Web-Dashboard module that allows you to view, using a common web browser such as Explorer or Chrome, a wide range of "dashboards" with production or sales statistics stored in the ERP database.
The large range of options and tools available in the package allow to indicate, in a clear and detailed way, any delayed orders, resets to be performed quickly, information on the efficiency of the machines, the situation of the shipping stands and much more.
The library of available dashboards is constantly expanding: pie charts, bar charts or colored fields in different modes and font sizes can be modified at any time to display the desired information clearly and immediately.
Defect-opt 3.0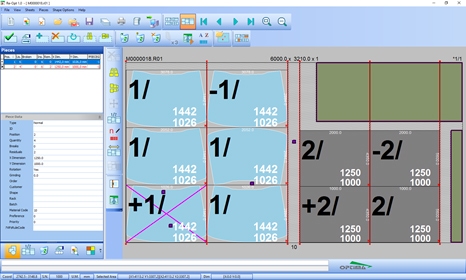 Customers already using Defect-opt are unanimous in recognizing that defect exclusion before cutting, compared to (or combined with) the more common quality control usually placed downstream of the production sequence, saves time and raw material.
On the strength of this experience, Optima has presented the new version of the defect exclusion optimization adding the possibility to exclude whole areas, accept defects placed in waste areas inside the box of a pattern and, above all, to categorize the defects giving the user the possibility to judge which are acceptable and which must be absolutely avoided.
Terminus (Industria 4.0) per GMC-Monitor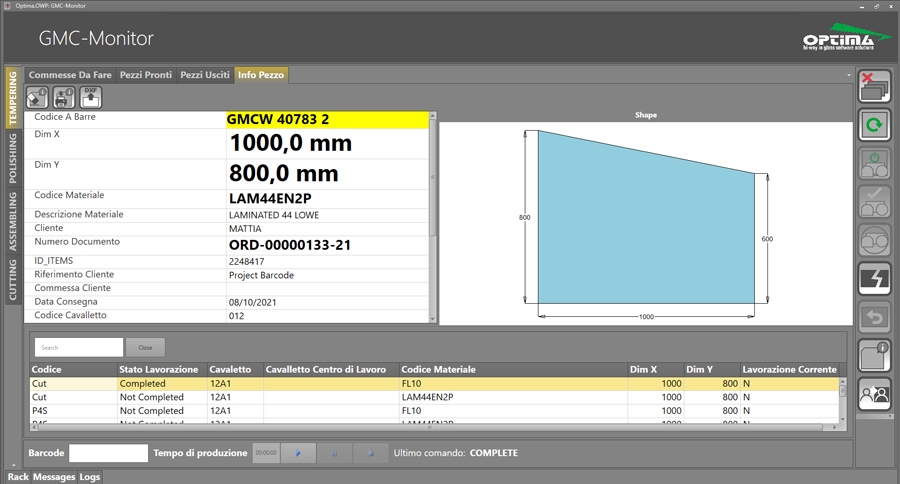 GMC-Monitor has been designed to operate on a touch monitor and can work integrated with fixed or wireless barcode readers, with presence sensors configured to detect the passage of pieces or work in perfect symbiosis with the machine in an Industry 4.0 context. The synergy between Optima and machine manufacturers has led to an increasing number of plants with which the GMC-Monitor is able to communicate bidirectionally by passing the list of incoming parts to the machine and receiving information from the machine that the machining process has been completed (Terminus functionality).